Barry
Spring is the Time for a Screened Porch
Spring is a time for us all to go out and enjoy nature. Sadly it is also a time for bugs, pollen, and Mr. Sun to do the same. A screened porch allows a homeowner to create a space that gives them the best aspects of both indoor living and outdoor enjoyment. Depending on how you arrange the area, you can find yourself entertaining guests or relaxing with an excellent book or movie all while feeling apart of the larger world. Cool breezes, rustling leaves, chirping birds and all the wonders of nature from the comfort of your home.
Improve the value of your home and the quality of your Spring with this efficient investment. A screened in porch often increases the value of a house, earning you back a substantial portion (if not more) of your investment. In this article, we are going to cover some of the basics of a screened in porch as well as some ideas for how you can utilize the space.
What is a Screened Porch
Screened in porches are a hybrid of interior and exterior space that tries to get the best of both worlds. A well-designed screen porch area will be cozy and comfortable as an interior room, but will also have the breeze and ambiance of the outdoors -minus the bugs and leaves. For example, Now you can read a book and enjoy the cooling air of the late afternoon without fearing the arrival of mosquitoes.
There are a large variety of variations of screen porches that run the spectrum from practically an interior standard room with some screen windows to a usual porch or deck with only some screen slider walls to keep out the elements.
You will want to evaluate your home's unique situation, and the climate in your area, before deciding what form you wish for your screened in deck to take.
A screen porch is not quite a sunroom, which is much more in line with other rooms of the house, but with a more natural feel. Screened porches sometimes converted over time into sunrooms.
General Benefits of Screened In Porches
Comfy outdoor living both when raining or hot outside.
No hassle with annoying insects.
Increases your home's value
Why You Want a Screened Porch This Spring
When the sun and warmth start to come back into our lives, we all benefit from a natural energy and mood boost. A screened porch allows you to soak up the fresh air and sunshine -in moderation. You get all of the upsides of Spring without the downsides.
With a screened in porch, you also benefit from a wide range of options in terms of utilization. Get a garden going or set up a pleasant reading nook. The possibilities go as far as your imagination in this regard.
A well-designed porch can completely change the way you experience this Spring season. Getting it up before you come under siege from pollen can also be a game changer for those with allergies.
You will love Sun-blocking screen once Summer Rolls Around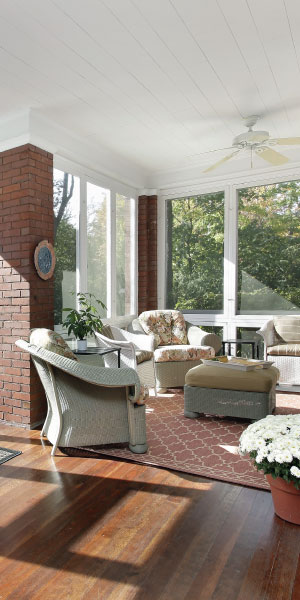 A good screen is always going to block some of the sun's rays, but you can also opt for materials that can remove up to 90 percent of the heat generated by the sun on a room. This gives you the option for a much cooler and comfortable space to enjoy when it really starts to heat up. These rooms also can save you quite a bit on air conditioning costs in the long run.
Some Screened in Porch Styles and Designs for Spring
There is a vast variety of options out there for your screened in porch. Here are some common templates to get your imagination going.
Living room and dining room themed screened in porch.
These rooms are built around giving you plenty of dining and lounging space to help you enjoy your meals along with the best of nature. Warm mornings and cool evenings make your major meals just that much better. Going for more cooling materials (natural stone for example) is a great way to keep the area cooler during mid-day.
Bedroom or Lounge Style Screened in Porch
In many climates, a place for a nice mid-day nap or an escape from the evening indoor heat can make you much more comfortable and capable of avoiding lost hours due to temperature. These rooms can also double as recreation areas or guest spaces.
Small Nook Screened in Porch
These areas can be as rustic or as modern as you want. Both styles lend themselves well to a nice cozy area with which to enjoy nature. If you go with the minimalist approach, you have a nice place to enjoy a drink and chat with guests. These small spaces are also excellent for those who work from home and need a touch of fresh air without the insects.