Barry
How to Pick the Perfect Deck for Your Lifestyle
Finding the "perfect" deck for your home isn't as straightforward as you may have initially thought. A deck is a big step when it comes to adding on to your home, and can make a huge difference both in how you interact with your house on a day to day basis, and how it looks to others from the outside.
The type of deck that you will want will depend heavily on what you plan on using it for (barbeques, events, or perhaps just a private relaxation spot) and the layout of your home and property. Homes in more arid climates are going to be needing different features from those in a city like Seattle. You need to evaluate your situation and goals before you begin to try and finalize the type of deck you want or need.
Highlight a few key areas or concepts you should focus on when you begin to formulate the type of deck that will be perfect for your lifestyle. With these concepts more precise in your head, any conversations with a prospective deck builder will be much more constructive and useful towards getting you exactly what you want and need.
The Weather
As stated before, every deck builder knows a home in the Pacific Northwest is going to require a different mindset than that of someone in the Arizona desert or the Florida Coast. You will need to spend some time researching which materials, sealants, and paints have performed the best traditionally in your climate. I'm hesitant to suggest specifics since the optimal brand tends to shift depending on locale and need. Consult your local hardware store about what are the favorites for your local climate.
As far as the deck materials themselves: Going with a composite or faux wood is a cheaper alternative that can handle itself very well in the rain, but is prone to warping over time in hot weather or direct sunlight.
Woods other than cedar, ipe, redwood, and teak lack natural oils that let them ward off rot – and will require much more direct care over time. You must balance price with practicality and longevity when choosing the material for your deck – and this will all directly correlate with the climate you find yourself in.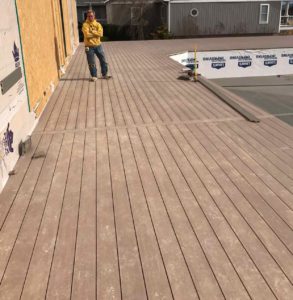 Here are some quick tips that can help guide your decision:
Maintaining a wood deck in rougher weather will usually include giving it a new coat of stain every two years.
A sunblock finish can help reduce "greying" of the wood over time.
Generally speaking, the cheaper the wood, the more maintenance it will require over time. Mahogany, Redwood, and IPE all can be relied on to resist very tough weather conditions.
Look into optimal climate based items like Thompson's water seal, flame seals, and fire retardant sprays for your deck.
The Landscape
This overlaps with weather a bit and also brings up a few other concerns you should be aware of. The terrain within which you plan to build your deck can have drastic consequences on the final or optimal design. Some properties have a large amount of shade due to trees or even neighbors and will be less concerned about direct sunlight or weather. Conversely, perhaps the area is directly exposed to the sunlight, in that case investing in an awning or canopy may make sense. If you are in a city, a windwall is often a requirement.
Look at what is around you and the area in which you wish to build and be sure to factor that into the final design and materials. Maybe that wrap around deck you wanted requires you to either remove a tree- or better yet incorporate it into your design. The possibilities are quite numerous with a good deck builder and some imagination. Take the time to think on and evaluate your situation.
The Purpose
Any contractor or deck builder will tell you there is going to be a relatively drastic difference in the optimal layout between a large event hosting deck, an area for fitness, and/or a private scenic area to read books and drink tea (let alone those that want to include features like a hot tub).
If you are going to be doing a large amount of grilling and hosting, a popular option is to try a tiered design for separation of cooking, sitting, and other areas. This allows for a more organized and spacious feel even if the actual floor space remains the same.
Entertainment systems are also now a popular addition to outside decks. Though they will require a bit more planning in order to preserve the equipment properly,
There are also considerations if you have kids, pets or the elderly. These factors should dictate things like the safety and size of the hand railings and steps. Bad slips and heads getting stuck in hand railings can still happen, but there are now various methods and designs available to limit their chances.
Think about what you wish to accomplish with your deck and consult an experienced deck builder who will know just how to pull it off right.