Builder and Supplier of Patio Enclosures in Knoxville, TN
---
Welcome to LifeRoom!
Unique. Innovative. Sophisticated. These words do not even begin to describe the LifeRoom patio enclosure experience.
Enter a realm of relaxation  and comfort that you've never dreamed of before and realize the feeling of all of your senses coming alive. LifeRoom isn't just a room… it's a total mind-body experience. Let the soft gentle breeze of the "Cool Mist Climate System" caress you. Protect yourself from the blazing sun's UV rays and relentless mosquitoes with the "Smooth Glide Motorized Screens". The LifeRoom Patio Enclosure is your oasis… your sanctuary… everything you love about the outdoors, with the comfort and amenities of being indoors. Relax, entertain, enjoy in your serene haven while you are in total control of your environment.
Privacy on Demand: Remote control smooth glide screens
Breath Easy Pollen Guard: Blocks out 99% of pollen
Cool Mist Climate System: Drop the temperature 40 Degrees
Radiant Heaters: 90% Efficiency
Glazed Skylight: Sunlight comes in, UV rays stay out
Mood Lighting: Soft blue LED lights line your Liferoom
Home Theater: Built in movie screen, on-demand projector, and surround sound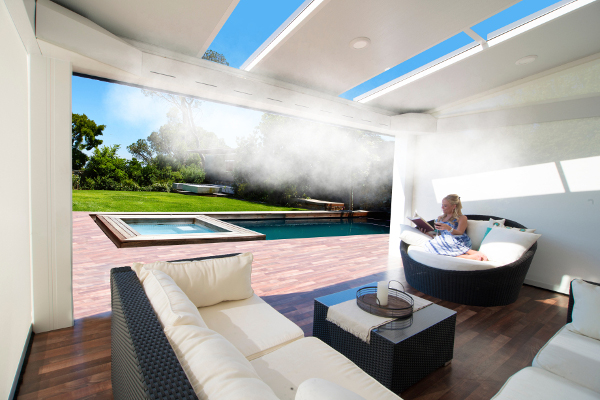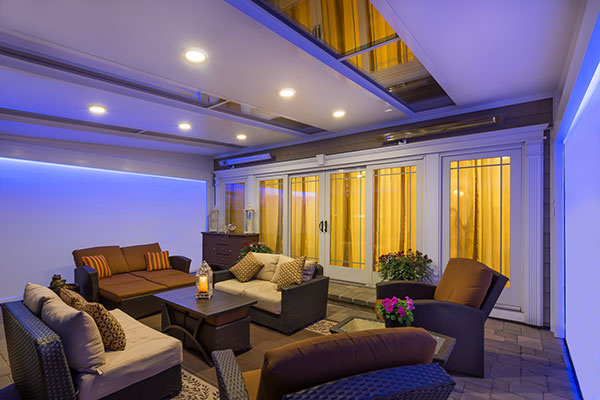 Custom Designed Sunrooms and Enclosures for Knoxville, TN and the surrounding area.
With an vast selection of window, wall, roof, and door options our sunroom enclosures allow you to design a new space that compliments your lifestyle and the look of your home.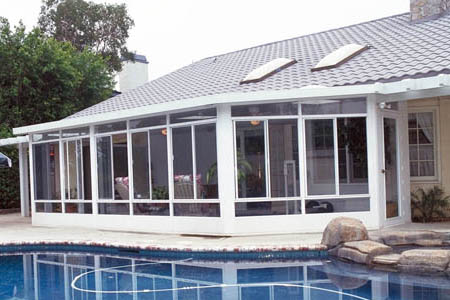 We build custom Screened in Porches in Knox County, TN
We've been improving homes and backyards, with screen room patio enclosures for over 3o years. Our patio enclosures are built professionally and seamlessly into the home throughout with a 100% satisfaction guarantee.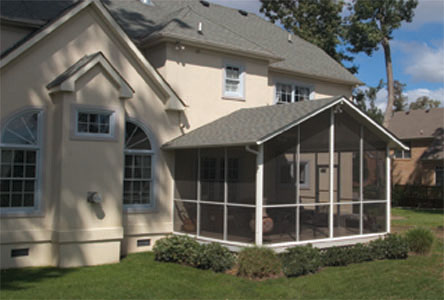 Swimming Pool Enclosures built by Sunrooms Express Knoxville.
The most common reason to build an enclosure around your swimming pool is to keep out insects, birds and debris. With option for screened walls or solid walls and windows you can pick the design that fits your lifestyle. Swimming pool enclosures also reduces pool cleaning and a cleaner pool requires less chlorine saving you time and money.