Barry
The Top Uncommon Ways To Use Your Patio Enclosure
Are you looking for a place where you can relax and enjoy your patio and its view, but the unpredictable weather will never let you? A patio enclosure is the solution you have been searching for. A patio enclosure will allow you to enjoy your patio all year around. In the summer season, you can slide open the enclosure and enjoy the warm weather. A patio enclosure is not only limited to one thing, but there are endless ways of how you can use your patio to best fit your needs.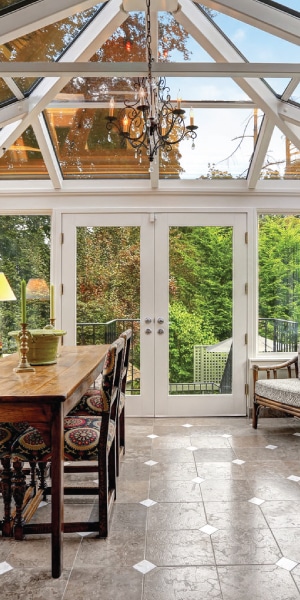 Uses For Your Patio Enclosure
Sunroom: The most common use of a patio enclosure is to create it into a sunroom. A sunroom is a room that allows for abundant sunlight to shine through. You can enjoy the natural view while being in the comfort of your home.
Four Season Room: A four season room is a room that can be used in all the four seasons: winter, spring, summer, and autumn. You can install an AC and a heater inside this room, so in the summer you can be cool and in the winter, you can be warm.
Camping Space: If you want a camping experience, but do not want to in the open and outside, then camping out on your patio is a great option. This is perfect for those who have younger children and want to give them the experience of camping while being protected and being inside their home.
Stargazing: A patio enclosure with glass panels is perfect for stargazing. You and your loved ones can make yourself comfortable and will not far from home at all and can enjoy the view. It can make an excellent spot for date night or family night.
Outdoor Dinners: Most people grill and cook outdoors in the summertime, but what about those times where it is another season, but the weather is nice and you want to cook outdoors. With a patio enclosure, you can cook breakfast, lunch, or dinner during any season. Patios with the screen are fantastic because the aroma of your food will not linger and make your whole house smell like a certain food. The smell will quickly disappear, while you enjoy your meal cooked outdoors during the off seasons.
Protection For Your Furniture and Decor: If you use your patio for living space, then you probably have furniture and decorations. With your patio enclosed, your valuable furniture and decorations will not be ruined. You can make the space look trendy and in-style without having to worry about the rain ruining your sofa or your precious paintings.
Keeps Out Uninvited Guests: A patio enclosure keeps all sorts of uninvited guests away. Uninvited guest as in insects, unknown animals, and even burglars. The insects and animals cannot walk through a screen or glass walls. You do not have to worry about your neighbor's pet coming into your private space or a wild animal from your backyard coming in either. Since most of the walls are either screen or glass, a burglar will think twice before breaking in because someone can spot them very easily. You will also have doors and locks, which would make it harder for uninvited guests to wander in.
Space For Plants: For all the plant lovers, the patio can be your greenhouse. You can grow all types of plants in this room because there will be plenty of sunshine and fresh air that comes through. Your plants will also not be pestered by insects or animals.
Pet Room: If you have a pet of any sort, then take advantage of your patio enclosure and let them roam around in that space. You know that they can not get outside or let anything come in. Your pets will feel as if they are outside, while actually being inside a safe space where they are less likely to get injured.
Playroom Option: Families with a child can use the patio enclosure as a playroom. The child can spread out their toys and have a great time while getting their daily dose of Vitamin D. Parents can also be at ease because their child is in a protected area and right in front of their eyes.
Fitness Space: Is your room too crowded for workout equipment and are you tired of working out indoors? If you answered yes to either of those questions, then maybe you should turn your patio into a fitness room. You can do something as simple as yoga or do a full-on workout routine in that open space, where you get both the fresh air and sunlight.
Man Cave and She Shed: Everyone needs their own space. For a man, it is his man cave and for the woman, it is her she shed. You can add a flat screen tv, some reclining chairs, and maybe a popcorn machine to turn this space into a man cave where you can watch your games without being disturbed. For a she shed, you can add a shelf with nail polishes, a corner with books, and a small table with a teapot and some teas to enjoy some free time to yourself while you relax and unwind.
Get A Patio Enclosure Today
A patio enclosure allows you to do pretty much anything you want in the comfort of your own home while having privacy. You also do not have to worry about keeping up maintenance on your patio enclosure. Once you get it built and installed, you are set for life. A patio enclosure is a multi-purpose room that with a bit of creativity can turn into anything you want.