Barry
What Type Of Finish Will Your Deck Have: Stain or Paint?
Nowadays, homeowners are adding a deck to their homes. By having a deck, you get extra outdoor space while adding value to your home and providing a location for your family and friends to be entertained and have fun. There are many choices that one has to make when having a deck; for example, one of the most important maintenance choices for your deck is what type of finish it will have.
Staining Your Deck
Deck stains are popular because they highlight the material the deck is made of. The three most popular types of stains are solid, semi-transparent, and clear preserves stains. With deck stains, you can choose them to be as transparent as you would like them to be. There are several advantages to staining your deck, but also there are some disadvantages.
Advantages To Deck Stains
Easier to Apply: A stain is more forgiving. If you were to miss a spot, then it is not as noticable, unlike paint.
Wide Selection: Stains come in many different colors and shades. Before staining your deck, always test the color because the color of your deck material can alter the stain color.
Less Slippery: The deck will be less slippery when you apply the stain. It will protect the wood and give it a nice look without creating a slippery surface.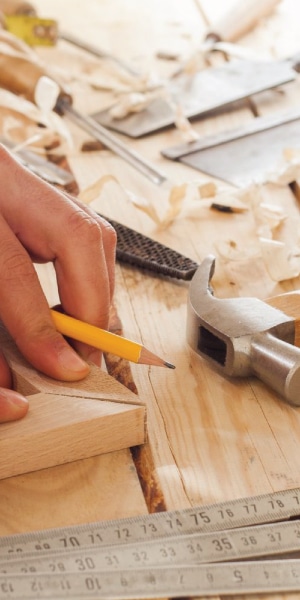 Disadvantages To Deck Stains
Shorter Life Span: Compare to painting, staining your deck will not last as long.
Cracks Are Visible: By staining your deck, cracks, voids, and splinters are not filled and are visible.
Some Stains Do Not Hold: If your deck is made out of high-quality wood, then there is a chance the stain will not stay and you will have only wasted your money.
Painting Your Deck
Most people have their decks painted. It is one of the easiest ways to finish up your deck. Once your deck builder is has finished construction, they will paint it and then it is ready to go. Just like staining, there are multiple advantages and a couple of disadvantages to painting your deck.
Advantages To Painting Your Deck
Cover Up Anything: Whether your deck is old or new, the paint will cover it all up.
Easier To Clean: If your deck ever got too dirty, you can wash it off just like any other object.
Protects Wood: Paint resists rot, mold, and sun damage better than staining. It even protects the high-quality wood.
Disadvantages To Painting Your Deck
Slippery Surface: Whenever paint gets wet, the surface can become very slippery which makes accidents very likely to occur.
Hides Natural Beauty: The beautiful wood underneath the paint will be completely covered.
Paint Is Forever: Once you paint your deck, it will be there forever. To change the color, you will have to go through a complicated process which can be time consuming and pricey.
How To Stain & Paint Your Deck
Clean the entire deck and make sure there is no debris left behind.
Protect the exterior walls by adding painter's tape to where the exterior wall meets the top of the deck.
Take your paint tray and add the stain or paint into it and give it a good mix.
Use the paint pole and dip it into the stain or paint and apply it to the deck.
Staining vs Painting Your Deck
The cost of staining your deck costs between $1 and $1.50 per square foot. If you decide to paint your deck, it will be between $2 and $4 per square foot. The lifespan of painting your deck is much longer than staining it. As you can see, there are several advantages and disadvantages of staining and painting your deck. You need to decide which option is right for you and get started on your project.
Need help finding the perfect deck for your home?