Barry
When planning a sunroom, you'll soon find that you have quite a lot of options available. Even when you consider what kind of sunroom you'd like to get, you have the choice between enclosing your deck or patio, adding a new sunroom, or even converting an old room in your house sunroom. To plan your sunroom properly and create a space you and your family can use on a regular basis, the first step is considering how you'd like to use the space.
Ideas of How to Use Your Sunroom
There's no sense in adding a new room to your home if you don't know how you'd like to use it, and so the first thing to consider is how you'd like to use your sunroom. To get the best use out of your sunroom, it's good to know what you and your family will use the sunroom for.
Entertainment/Lounge Area
Typically, sunrooms are used as entertainment or lounge areas where families can relax. To turn your sunroom into an area where you can entertain guests and relax with the family, it's good to have things like a dining table, chairs, couches and perhaps even a television in your sunroom.
Home gym
If you like to stay fit, turning you sunroom into a home gym can provide the perfect tranquil, private environment to enjoy your morning or afternoon workouts.
Indoor swimming pool
Adding an indoor swimming pool to your home can be perfect if you want a space where you can swim almost every day if you like. If you want, you could even combine the idea of an indoor swimming pool with an indoor gym, or entertainment area. In which case your sunroom can have exercise equipment for a gym, or a barbecue area for an entertainment room.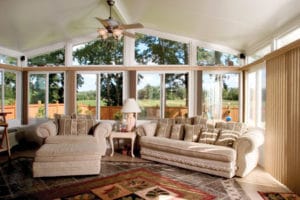 Office or study
While using a sunroom as a home office or a study isn't a popular choice, it's worth considering if you like the idea of working in an area with lots natural sunlight.
Greenhouse/garden
Using a sunroom as a greenhouse or garden area gives you the perfect place to keep your plants safe from bad weather conditions like hail and cold temperatures. A greenhouse can make for a lovely garden area, you could choose between using your sunroom garden as a butterfly sanctuary, vegetable garden or flower garden. Adding a small table with some chairs to your garden can turn it into a lovely place to enjoy breakfast in the morning too!
Hobby room
If you have a hobby like sewing, scrapbooking or anything else that requires you to have a designated hobby space, a sunroom addition might create the perfect space for you to enjoy your hobby during your off time.
When it comes to how you can use your sunroom, it's all up to your personal needs and preferences. So simply sit down and think about what kind of space you'd want most, and you'll be well on your way to planning an amazing sunroom!
Planning Your Sunroom
Once you've decided how you'd like to use your sunroom, you'll be able to plan the space to suit your needs.
Size
An indoor pool area with a barbecue and bar will require you to add a much larger sunroom than a home office or hobby space, so be sure to plan your sunroom to fit its intended purpose. A sunroom that's too big will look empty and unattractive, whereas a sunroom that's too small will feel cramped and unpleasant.
Natural light
The way you intend to use your sunroom will determine how much natural light you'll want in the room. While an entertainment room, indoor pool or dining area can be a nice space with bright sunlight throughout the day, you'd probably want to soften the natural sunlight if you're planning to build a hobby room or home office. When building a sunroom, it's important to plan it in an area of your house that normally gets sun. If you build the sunroom in a shaded area, it won't bring much light into your home.
Electric plugs
When adding a sunroom addition, it's easy to forget that you're likely to need electric plugs in your sunroom. While electric plugs aren't important if your sunroom will be a barbecue area or garden, it can be essential if you plan to add home gym or office space.
Luckily there are sunroom choices to suit any need. Choices in sunroom designs include deciding between a partial sunroom with more shade, a screened-in porch, or expanding an existing room by adding new windows for brightness.
To ensure you get a sunroom that lives up to your expectations, it's always good to talk to a sunroom professional to learn about all your options and plan a sunroom that's perfect for you. If you'd like to add a sunroom to you home, feel free to contact Sunrooms Express Knoxville for advice, ideas and a quote for installing your dream sunroom.