Barry
Which Type of Siding Is Best For You? Wood or Vinyl Siding
Every building has siding or wall cladding. Siding is the protective material attached to the exterior side of a wall of a building, and its main purpose is to prevent water from entering the walls. Typically most buildings have brick or stone siding, but wood and vinyl sidings are becoming more popular in 2018. If you are looking to change the appearance of your home without buying a brand new house, then the best option for you is to change its siding to give it a new look.
Wood Siding
Wood siding is very common and popular, especially in the West, because it is natural, beautiful, and traditional. Wood siding is typically used on cottages, bungalow, and Cape Cod exteriors. There are many styles of wood sidings with different colors to pick from. It also has various advantages along with a few disadvantages.
Styles of Wood Siding
Lap Siding: A traditional siding that overlaps and creates a narrow edge on one side, and a wide edge on the other side.
Drop Channel Siding: It is versatile and can be installed horizontally, diagonally, or vertically. One side is significantly narrower than the rest of the board.
Split Logs: The log cabin look which is usually made with logs split in half.
Maintenance of Wood
Wood siding requires regular maintenance. To keep the wood in excellent condition, clean often using warm, soapy water and a soft-bristled brush.
Advantages of Wood Siding
Impact Resistant: Other material would chip under impacts, but wood would ease out dents. The fibers of wood will continue to respond to moisture content and temperature.
Aesthetics: Wood is a natural and beautiful material, and the appearance of it will attract much attention.
Easy to Install: The wood siding is fairly easy to install and will save money because it does not need
professionals.
Disadvantages of Wood Siding
Maintenance: Wood requires a lot of attention and care and over the years, the cost can really add up.
Vulnerability: Many types of insects are attracted towards wood and that makes it susceptible to damage.
Expensive: Since wood siding is in high demand, it can be more expensive than other types of siding. High-grade cuts can be very costly, especially if the building is larger.
Vinyl Siding
Vinyl siding is an excellent choice and comes in all different colors and texture. It is relatively new to the market, so many people are still hyped up about it. Vinyl siding is commonly used on building to give it a cleaner and modern look.
Styles of Vinyl Siding
Dutch Lap Style: A very popular style that mimics hand-carved wooden planks.
Smooth Lap Style:The smooth panels have no shadow lines and look like long painted wooden planks which recreate the Colonial look.
Beaded Style: Beaded style has a bead on the bottom edge. In the olden days, it was hand carved which created a unique and sophisticated look.
Maintenance of Vinyl
The maintenance is very minimal; every year, you will need to take a hose and soapy water and rinse off any debris that has not been washed away by precipitation.
Advantages of Vinyl Siding
Minimal Maintenance: Most objects will not stick to vinyl for a long time, and if something did then it would get washed away by rain or carried away by the wind.
Decorative Decisions: There are many types of colors and textures that vinyl comes in. If you are looking for a specific type of look for your house, then vinyl will not disappoint.
Remarkably Strong: Since the vinyl is made out of PVC plastic resin, it is very strong. It will not rust like other materials.
Disadvantages of Vinyl Siding
Severe Weather Conditions: In extremely hot weather, vinyl can melt. If it is too cold, then the siding can crack and become brittle.
Poor Insulation: Vinyl siding does not insulate well. To solve this problem, you can add heavy-duty insulation inside the wall, but it will end up costing more than the vinyl.
Toxic In A Fire: If your house ever caught on fire, the vinyl can be toxic along with the ashes, and it can lead to severe damage to the lungs and kidneys.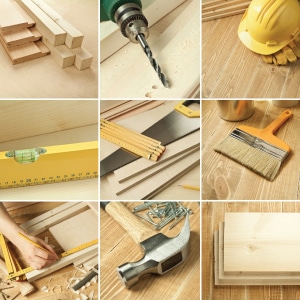 Colors of Siding
Whether it be wood or vinyl siding, the most popular colors for both materials are the same.
Autumn Red
Coastal Blue
Cypress
Desert Tan
Granite Gray
Linen White
Wood vs Vinyl
Wood siding is more expensive as it is $5-$10 per square foot, and vinyl siding is approximately $2-$7 per square foot. Wood siding is typically the traditional one, and vinyl siding is usually the modern one. Each material has its own advantages and disadvantages, check out both types of material and see which one is best suited for you.